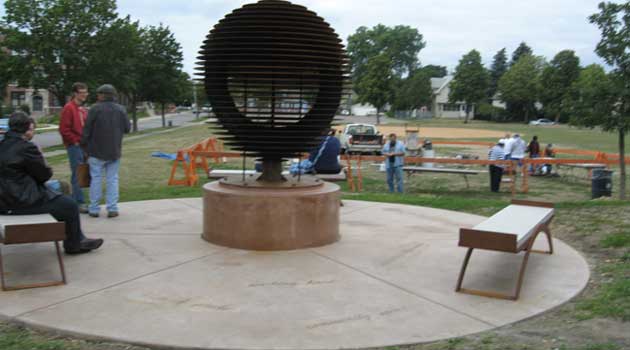 LCM Concrete & Masonry and its employees play a very visible role in our community.
Whether they are delivering meals on wheels, helping to build homes for Habitat for Humanity, or building a new cabin for inner city kids to spend their summers experiencing new adventures in nature, the volunteer and dedication to our Community is something the LCM crews take great pride in.
The Company and its employees played a role in the Guardian Statue in front of the 2nd Precinct Police Station. Several of our employees/owners serve with the Lions Club of Northeast Minneapolis. Through the Lions Club they ring bells for the Salvation Army collect food for the local food shelves, provide gifts for the Holidays to those in need.
Our employees have been honored by serving as the Grand Marshall of the NE Mpls Parade (2007 & 2010). Awarded the Eastside Exchange Clubs Book of Golden Deed Award for their efforts in supporting the community.

LCM Concrete & Construction and its employees have partnered in working on two homes for Habitat for Humanity and have volunteered to do some remodeling for senior citizens and those with special needs in the neighborhood that required special home adaptations to meet their changing needs.
Several times each summer we provide Job Skills Training to those broadening their skill set in order to find a better paying job in collaboration with East Side Neighborhood Services.
At LCM we believe in sharing our talents and time to better support the community.

Contact LCM Concrete & Masonry Today!
To get your FREE ESTIMATE or ask the experts at LCM any question either call us at 612-789-8171.