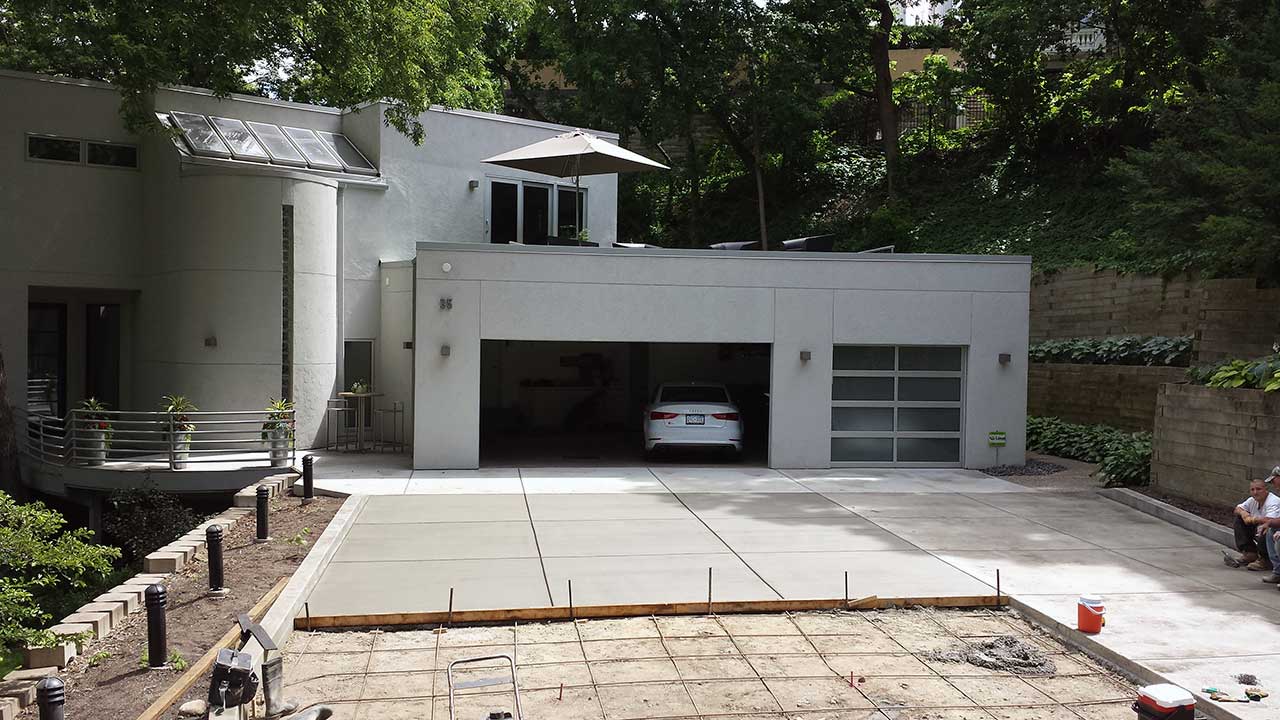 Let the Licensed Pros at LCM Install Your Durable, Beautiful Driveway!
Call (612) 789-8171 Today For Your FREE Estimate!
Concrete driveways can offer a virtually maintenance free solution for homeowners and businesses alike. Many concrete driveways are standard grey concrete, but the decorative options available can enhance your home or business and instantly add to your curb appeal!
The two most common driveway materials are concrete and asphalt. Concrete is generally preferred due to the low upkeep required. Although sometimes cheaper in the near term, asphalt driveways require more time and maintenance than concrete long term. Asphalt driveways must be sealcoated every 3 to 4 years to maintain their durability, which considerably adds to their cost. In addition, concrete is the "greener" of the two, since asphalt is a petroleum derived product. Concrete reduces the urban heat island affect due to its higher reflectivity and can also be recycled into other usable products.
Concrete is the logical choice for driveways due to its durability and easy maintenance, especially in the harsh winter environments we experience here in the upper Midwest. Proper preparation, cement mix, and installation practices must be used in order to survive the large number of freeze/thaw cycles we see here. At LCM Concrete & Masonry, Inc., we always include a surface strengthening fibermesh admixture at no additional cost, as well other strengthening agents, to enhance the durability of the driveway.
Decorative options include several different methods of coloring, stamping, texturing, acid staining, stenciling, and exposed aggregate. Your concrete driveway can be installed to replicate cobblestone, brick, sandstone, tile, several types of textures, and many others. Standard gray concrete is no longer the status quo!
Let the professionals at LCM Concrete & Masonry install your new durable, beautiful concrete driveway.

Contact LCM Concrete & Masonry Today!
To get your FREE ESTIMATE or ask the experts at LCM any question either call us at 612-789-8171.